Click HERE to see information on Garmin Nuvi

Click HERE to see information on the Garmin Zumo


For the latest prices visit the SHOPPING CART

The developers of the Seeka came to us with a machine and we worked with them to make sure that the software environment on this unit would best suit our customers needs.
The Seeka is intended as a general purpose handheld computer PDA device with GPS capability, good for city & town navigation as well as off-road & 4WD trekking.

Are you tired of tiny, literally palm-sized devices? Then the Seeka is the device you have been waiting for. The Seeka is larger than other PDA type navigation devices but still much more compact than even a small laptop. Dimensions: W 183mm x H 115mm x D 20mm.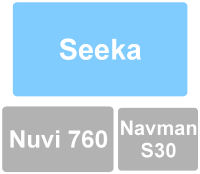 relative screen sizes

Seeka
Map Software & Data
Windows CE - software environment & utilities

OziExplorer CE - moving map software

Odyssey Navigator - Navteq - street navigation data for all of Australia (other countries available)

Fullers Adelaide & Country SA - map data on the SD card (use with OziExplorer CE)

Natmap 1:250k - data for all of Australia on the SD card (use with OziExplorer CE)
(Map data for other countries available separately.)

ACCESSORIES INCLUDED!
240 volt power supply, in-car charger, usb connection, heavy duty in-car mounting kit with an anti-glare sunshade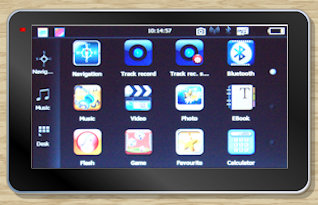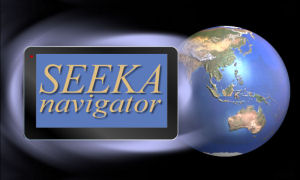 7" easy-to-read 480 x 234 pixel full colour screen TFT LCD screen

in-built SiRF III GPS antenna

touch screen

Windows CE 6.0

microSD card slot

microSD card with map data (incudes SD card adaptor)


in-vehicle camera with 2hr recording capacity

AV input for a reversing camera (reversing camera not included)

mp3 player

in-built speaker

stereo audio headphone output

avi movie player (asf, avi, wmv, 3gp, mp4, flv)

audio player (mp3, wma)

e-book player (txt)

photo viewer (bmp, gif, jpg, png)

mini usb port

BlueTooth connectivity to hands free phone

FM transmitter to car radio

12 month guarantee

service agent in Adelaide